Introducing the 2018 Nissan Leaf's Semi-Autonomous Driving Technology, Pro-Pilot Assist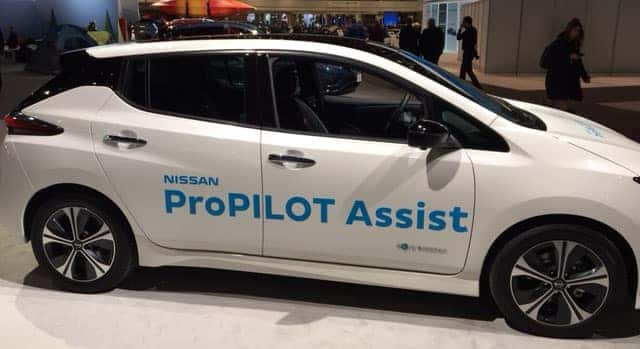 Contact Us Learn More About the 2018 Nissan Leaf
The 2018 Nissan Leaf showcases the latest semi-autonomous cars technology in the ProPILOT Assist package. They're the first Japanese automaker to combine steering, accelerating, and braking that can be operated in full automatic mode. Revolutionary autonomous drive features include:
ProPILOT Assist's Steering Assist
ProPILOT Assist's Intelligent Cruise Control
Automatic Emergency Braking with Pedestrian Detection
2018 Nissan Leaf ProPILOT Assist
The 2018 Nissan Leaf's ProPILOT Assist system presents the next step forward in autonomous cars. Using advanced image-processing technology, it understands road patterns and traffic situations to execute steering and help prevent accidents.
Features include:
ProPILOT Assist's Steering Assist: Don't worry about drifting from your chosen lane. Steering Assist keeps your Leaf between the lines by reading the road and applying corrective steering pressure. It even keeps you centered through any shifts and curves.
ProPILOT Assist's Intelligent Cruise Control: As you drive from Bremerton to Port Orchard or Tacoma to Seattle, the Nissan Rogue will keep tabs on the flow of traffic to maintain your set distance. After you set your chosen speed, advanced technology maintains a set distance between you and the vehicle ahead, even stopping automatically should traffic halt.
Automatic Emergency Braking with Pedestrian Detection: If a potential front collision is detected, audible and visual alerts will give you time to apply the brakes to avoid or reduce the severity of an accident. Better yet, it works with both pedestrians and other vehicles, even bringing your vehicle to complete stop to avoid a collision.
This is state of the art technology, but the 2018 Nissan Leaf's semi-autonomous drive systems are still extremely user-friendly. Simply activate these features using a switch mounted on the steering wheel. You'll also be able to check up on the operating status by viewing your personal display.
Experience Semi-Autonomous Driving for Yourself With A Test-drive!
Reading about these forward-thinking features is one thing – experiencing them for yourself is something else entirely. The 2018 Nissan Leaf is available now from Advantage Nissan, so contact us today to arrange a test drive. We can also value your current trade and help you choose the perfect Nissan model.