The 2017 Nissan LEAF Home Charging Station

Available for all LEAF trims, the LEAF home charging station puts you in control of this clever EV's zero-emission power. Rather than jumping from power station to power station, you'll have all the benefits of one right in your garage. Advantage Nissan is your local expert on the 2017 Nissan LEAF and its charging options. Read on to learn more about the perks of a home charging station, and how it can help you maximize the LEAF's already astounding efficiency.
Why Choose One?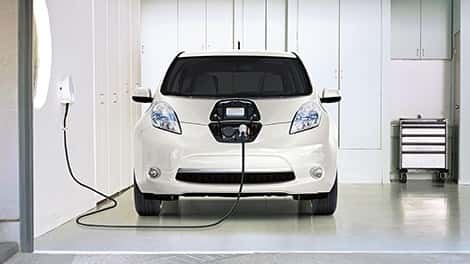 Plugged in, the 2017 Nissan LEAF S charges to full capacity in about six hours with a 240-volt charge port. The 240-volt charge port, as well as a 6.6-kW onboard charger, come standard on all trims but S. If you need to purchase a Level 2 charger, you can find a reasonably priced one on Amazon in no time.
There are around 564 EV charging stations within 30 miles of Bremerton. However, installing your own removes the hassle of traveling to and from a station, and lets you charge your LEAF at your leisure. Simply plug the charger into your LEAF and walk away. You'll receive an email notification once the battery is topped up!
LEAF Efficiency
The new Nissan LEAF is powered by an 80-kW electric motor and 30-kWh lithium-ion battery duo. Not a drop of gas is needed. Fully charged, the LEAF earns a superb EPA-estimated 124 MPGe city/101 MPGe highway rating. Every day, you'll zip past gas stations, confident in the knowledge you're slashing fuel costs and improving the environment.
With the home charging station, you can take full advantage of the LEAF's remarkable all-electric range. On a full charge, the LEAF travels up to 107 miles, and includes a regenerative braking system and speed-sensitive electric power steering. Whether you're running errands, or traveling to Port Orchard or Gig Harbor, the charge port ensures you're prepared for every journey.
Learn More at Advantage Nissan!
If you're interested in purchasing a LEAF home charging station, or test driving a new LEAF, contact Advantage Nissan today! Our Nissan inventory is one of the best in and around Bremerton, WA. Our friendly sales and finance team is available from 8:30 a.m. to 8:00 p.m. Monday through Friday, from 9 a.m. to 7 p.m. on Saturday, and from 11 a.m. to 6 p.m. on Sunday.