How Do I Change a Flat Tire?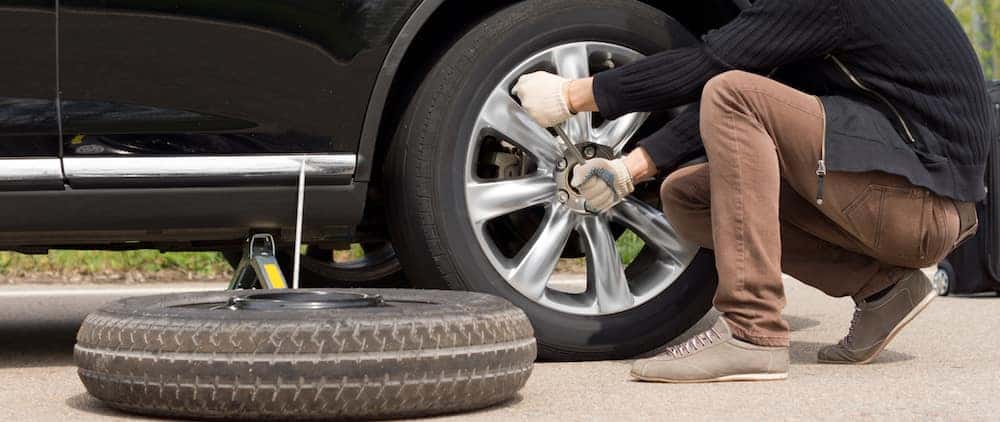 It can hit anytime. You're stuck on the side of the road with a flat tire–now what? Use this helpful guide from the factory-trained and certified technicians at Advantage Nissan to see how to change a flat tire, and remember to check out the service specials we have going on near Puyallup right now at our dealership in Bremerton!
Changing Your Flat Tires: A Step-by-Step Guide
Simply follow these steps to perform a flat tire change safely and easily:
Find somewhere safe to pull over. – Make sure you find a safe location where you can perform the tire change. Ideally, this would be in an empty parking lot or driveway, but at least make sure you're well off the road and away from traffic.
Get ready. – Once you're pulled over, make sure to turn your hazards on and engage the parking brake.
Get your tools. – In order to perform a tire change, you're going to need a number of tools, including a spare tire, a jack, a wrench, gloves, wheel wedges, a working flashlight, and a piece of wood to secure the jack.
Loosen the lug nuts. – Remove the hubcap or wheel cover if your lug nuts are covered, and then use the lug wrench to loosen the lug nuts. This may take a lot of force.
Raise the vehicle with the jack. – Put the jack under the vehicle, using a small piece of wood to stabilize it. Now raise the vehicle with the jack until it's about six inches off the ground. Don't put your body under the jack.
Remove the old tire. – Unscrew the lug nuts the rest of the way, and take off the flat tire.
Put on the spare tire. – Put the spare tire on the lug bolts. Tighten the lug nuts by hand, lower the vehicle, and then tighten the lug nuts the rest of the way with the lug wrench.
Put the hubcap back on.- Make sure you put the hubcap back on before your put your equipment away.
Check your tires. – In order to help lower the likelihood of flat tires in the future, remember to check your tire tread, and use a tire pressure gauge to make sure your tires are at their recommended tire pressure level.
Get a Tire Change or Other Auto Service Near Port Orchard
While a flat tire can happen at any time, you're less likely to get a flat tire if you follow get regular tire changes. At Advantage Nissan, we have tire specials going on near Auburn right now at 5101 Auto Center Boulevard in Bremerton, WA. We'll help you follow your vehicle's recommended maintenance schedule or help you find something fun to do on the Puget Sound after having your model serviced.
And, learn more about your Nissan engine and how you can remove the smell of smoke from your car or how often to change your oil. We'd also be glad to teach you about OEM parts, dent repair, and winter emergency kits as well!
You can reach our Nissan certified technicians directly at (360) 373-6300 or contact us online.